Sustainability
Managing The Needs Of Our Customers Through Our Commitment To Sustainable Fisheries
It Begins With Commitment
In order to sustain the long-term supply of the fishery products that we produce, ensure long-term relationships with our customers and a create a future for our family-owned company, Lund's Fisheries participates daily in a complex regulatory process involving two Federal Councils (the Mid-Atlantic Fishery Management Council and the New England Fishery Management Council) and an interstate fishery commission (the Atlantic States Marine Fisheries Commission).
Since 1977, the U.S. fishery law known as the Magnuson Stevens Fishery Conservation and Management Act requires 10 'National Standards' to be used by eight regional Councils in preparing management plans to ensure the sustainability of each species harvested across the country.  National Standard One, for example, establishes the requirement to "prevent overfishing while achieving on a continuous basis, the optimum yield from each fishery for the United States fishing industry" and National Standard Two establishes the requirement that "conservation and management measures shall be based upon the best scientific information available."
As a result of these strict policies, the fish and shellfish produced by Lund's Fisheries are being sustainably managed in a transparent and public process that uses the best science available to achieve a sustainable supply of the fishery products our customers rely upon, today and in the future.  The three pillars that support sustainable marine fisheries here in New Jersey, and throughout the United States, are; strong science, effective management and regulation, and enforcement.
Lund's Fisheries is a national leader in supporting fisheries research and management and we continuously contribute to these sustainable practices through investments in cooperative research with State and Federal scientists.  These projects lead to innovative outcomes like improved fishing gear to reduce bycatch and habitat impacts and additional data on environmental conditions, fish sizes and fish distributions that is used to assess the status of the stocks that we are privileged to fish for and make available to our valued customers.  We believe that fisheries must be managed based on sound science and work hard to be sure our fishery products will be available for generations to come.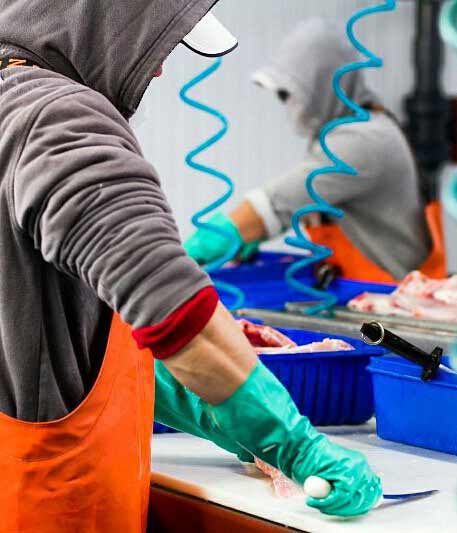 The National Marine Fisheries Service (NMFS) is the Federal agency charged with overseeing these activities and responding to conditions to ensure that harvest levels stay within sustainable ranges.  We invite you to utilize the up-to-date information on the sustainability of the fishery resources harvested and processed by Lund's Fisheries by referring to the NMFS FishWatch website at www.FishWatch.gov.
Saving Seafood conducts media and public outreach on behalf of the seafood industry, as well as communications to keep industry members aware of issues and events of concern.
Saving Seafood works with owners, captains, fishermen, seafood processors and brokers across the United States who are committed to the preservation of the resource that has provided their livelihood, and that of their American forebears, for generations.
GSSA is dedicated to sincere and effective representation to protect the interests of New Jersey fishermen and New Jersey's fisheries dependent businesses.
Through the Seafood Coalition, a nationwide network of fishing organizations which is operated by GSSA staff, we share information on what is happening on the Atlantic, Gulf and Pacific coasts with the potential to impact the commercial fishing industry nationally.
GSSA staff regularly reviews dozens of government, technical and trade publications for items that relate to New Jersey fisheries and takes appropriate action when warranted.
Drop Us a Line
Don't be shy. Let us know if you have any questions!