Domestic Sea Scallops Dry 81%
$22.95 – $27.95
Seafood Market Domestic Sea Scallops, Dry 81%
Choose a size option below:
10 or under per pound
10-20 scallops per pound
20-30 scallops per pound
Seafood Market, Domestic Sea Scallops Dry 81%, 1 lb. Bags, Various sizes
| | |
| --- | --- |
| Weight | 1 lbs |
| Country of Origin | USA |
| Shelf Life from Prod: | 730 days |
| Servings Per Package: | See Nutrition Information |
| Preparation state: | UNPREPARED |
Scallops Preparation Instructions
From Frozen:
Thaw product overnight under refrigeration in a pan that will allow product to drain. Keep covered with plastic wrap to prevent drying out. (Preferred Method)
Place frozen product in a strainer. Run cold water over product until it becomes pliable (Fast Method).
Be sure to gently pat dry scallops thoroughly, before cooking.
Cooking Scallops:
It is important that you don't overcook scallops or else they will become tough or rubbery. Scallops cook quickly, which makes them perfect for an easy weeknight dinner.
Sautee: (Most popular)
The best way to cook scallops, both sea and bay, is in a hot pan on the stovetop. First, if the side muscle is still intact, remove it from each scallop. Then pat them dry and season with salt and pepper. Heat a little bit of olive oil or butter in a skillet and then add the scallops. Cook 2 minutes per side and serve immediately with your favorite side dishes. Scallops should be cooked to and internal temperature of 130 degrees F.
Bake
Preheat oven to 425 F.​ In a large bowl, toss scallops with melted butter, garlic, lemon zest, (optional) salt and pepper. Spread out in a 2-quart baking dish in an even layer. ​ Take some Panko style breadcrumbs, toss with a small amount of olive oil. Sprinkle over scallops. ​ Bake scallops 10 to 14 minutes until cooked through. Scallops should reach an internal temperature of 130 degrees F.
Grill
After thoroughly patting dry the scallops, place scallops on skewer. Lightly brush with olive oil, season with salt and pepper.  Place on preheated grill, medium-high heat. (Tip, quickly brush grill grates with oil just before placing scallops on the grill to prevent sticking).   Cook for several minutes each side until scallops begin to brown.   Remove and serve with your favorite side dishes.  Scallops should be cooked to an internal temperature of 130 degrees F.
Foil pack method: Using heavy duty aluminum foil, bring the sides and ends up creating an open pouch. Place scallops in the pouch with several pats of butter, sprinkle salt and pepper to taste add your favorite spices if you like, 1 oz of white wine (optional) seal pouch and place on a high heat grill.  Allow scallops to cook for 5-7 minutes (depending on the size of the scallops).   With grill tongs, carefully open pouch.  Scallops should be bright white in color.  To finish quickly brush grill grates with oil to prevent sticking and place scallops directly on the grill to sear about 30 seconds each side and serve immediately with your favorite side dishes.  Scallops should reach an internal temperature of 130 degrees F.
Ingredients: Scallops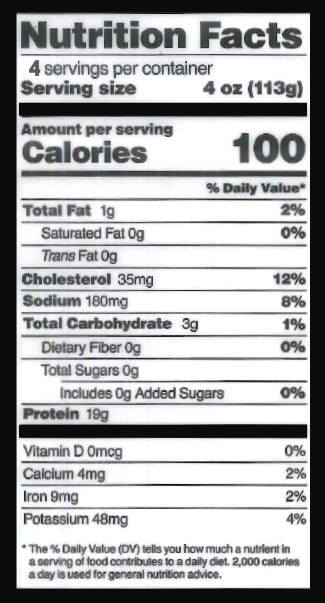 Allergens
Milk: FREE_FROM
Fish: FREE_FROM
Shellfish: Contains
Tree nuts: FREE_FROM
Peanuts: FREE_FROM
Cereals (Gluten Containing): FREE_FROM
Soy: FREE_FROM
This item will arrive within 2 days of shipping. Each package is shipped in Dry Ice, ensuring the contents will arrive cold and ready for storage in your freezer.
What is Dry Ice?
Dry Ice is another term for solid carbon dioxide. You know that carbon dioxide ("CO2") is the gas we exhale every time we breathe. When CO2 gas is compressed, it changes to CO2 solid.
Why do we use Dry Ice?
Dry Ice is very cold. In fact, its surface temperature is approximately -110°F, much colder than regular ice, which has a surface temperature of 32°F. Because Dry Ice is so cold, it is an excellent refrigerant to keep perishable food products cool until they arrive to you, the customer.
Why wasn't any Dry Ice remaining when my package arrived?
Dry Ice has special properties that are much different than regular ice. This is due to the chemical differences between water and CO2. Ice will melt to liquid and then evaporate as a gas. Dry Ice skips the liquid phase and changes from a solid directly to a gas. This change is called "sublimation." The dry ice used in the food products we offer usually lasts between 24 to 36 hours. Since we ship our products in 2 days, it is common for little or no dry ice to remain by the time you receive your package. However, your food will still be cold – ready to be put right in your freezer!
Country of Origin: USA
Net Contents: 1#
Shelf Life from Prod: 730
Count of Inner Packs: 1
Consumer Storage Instructions: Keep Frozen at 0°F or below
Preparation Instructions:
Serving Suggestions:
Servings Per Package: 10 (APPROX.)
Preparation state: UNPREPARED